Pool Resurfacing - Palm Springs, CA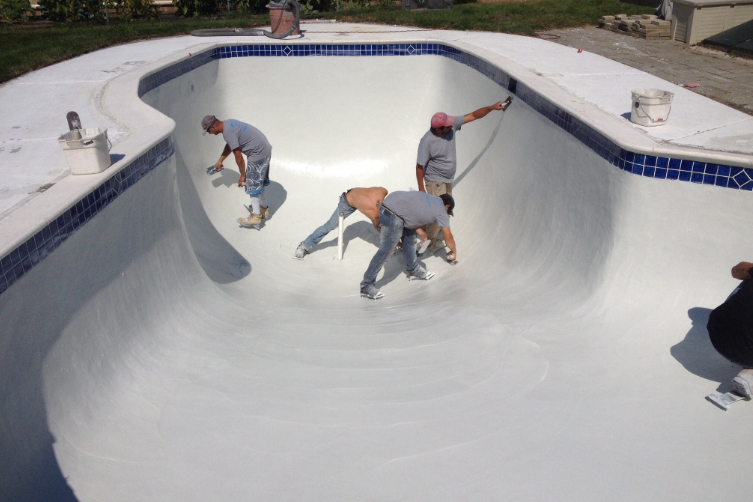 Palm Springs Pool Resurfacing
After some years, the surface of your pool will begin to show its age. The surface may start showing chips, cracks or begin to peel. If you're like most pool owners, your pool is a way life so when you start to notice signs of deterioration, it's best to take care of the problems early on, before things start really falling apart and the cost increases exponentially. When estimating costs, pool size is the biggest consideration but the shape of the pool matters too, because a square pool with flat walls is much easier to work with than one with curves. Then we need to consider what type of final finish you're looking for. In any case, we make it easy for you to have your pool resurfaced, and we can do it to fit any budget as well. 
Many of our clients started with a regular concrete pool, but when they decided to have their pool resurfaced, they went for the Diamond Brite finish mainly because it doesn't cost that much more than plain concrete, but it's much more durable and attractive! Diamond Brite has been known to last upwards of 12 years, so it's a good choice but you can also choose from a whole spectrum of other finishing options. After all, having your pool resurfaced is the perfect opportunity for a change so try one our exciting finishing options! 
Here are the steps needed to resurface your pool: 
First Step – Draining and inspection: 
First, your pool must be fully drained before any refinishing and repairs can take place. While our crew member is draining your pool, they'll conduct a full visual inspection to identify anything that needs attention. They'll then perform a test of all pumps and related pool equipment to ensure it's all in good working order. 
Second Step – Preparation: 
After we drain the pool and it's sufficiently dry, we start prepping the surfaces. This typically involves covering the entire surrounding area with a protective tarp, sand blasting, and complete stripping the pool walls and multi-coating. 
Sand blasting can be a bit dusty, but our crew knows how to keep all that to a bare minimum, so you'll barely even notice. At the end of the day everything will be cleaned up and all equipment removed so you won't even be able to tell we were there! 
Third Step – Tiles and Masonry: 
By this point, you have decided what kind of finish you desire and since this is the final step, you'll want to be absolutely sure of your selection. Once we've signed the final agreement the work will begin. 
For the most part, tiling can take anywhere from 24 to 36 hours. Masonry can take a day or two, depending upon your pools specific needs. 
Fourth Step – Plumbing Inspection: 
At this point, we want to be sure that the integrity of the plumbing is intact and the pipes are sealed properly to prevent any leaks. We'll also perform any additional repairs deemed necessary. This'll take around one working day. 
Fifth Step – Acid Wash and Applying the Pool Finish: 
The pool walls will require an acid wash for the final cleaning. We also need to etch the surface to make it rough enough for the finish to stick well. This step also removes any foreign contaminants that could interfere with the adhesion of the finish. These contaminants occur from chemical reactions that result from adding chemicals to the pool to adjust the chemistry. 
After the acid wash, the acid must be neutralized. Only then will we begin applying your chosen finish. This is when you start to see what the final product will look like. Usually, this process takes less than three days, depending on the size and shape of the pool. 
An acid wash is required to be performed by trained professionals which  insures proper bonding of these specialized products. 
Sixth Step – Filling the Pool & Cleanup: 
Although our team of experts never fails to clean up at the end of each day, we like to make sure we leave your place spic and span after the project is finished! We spend a few hours cleaning up any areas we may have overlooked and only then do we actually fill your pool up. We'll then do one final pass to check for anything out of the ordinary. 
Seventh Step – Initial Water Treatment: 
In order to be absolutely sure your pool's new resurfacing application will last a very long time, an initial water treatment must be performed. This can take up to a week, due to the fact that adjustments will need to be made to make sure it's perfect. 
If you have your own pool service crew you would prefer to use, no problem! We'll work with them to achieve just the right water chemistry to guarantee your pool resurfacing will last a long time. 
You probably realize that this isn't something that should be attempted by an untrained novice or homeowner. As soon as you notice any early signs of deterioration, the smart thing to do is call us for a free on-site consultation. We'll assess the situation and come up with a no obligation estimate. 
South Florida's year-round summer conditions pair perfectly with a cool, tranquil pool. Whether you want to go for a swim or entertain guests around a stunning water feature, a pool can be a great investment for your property. 
Just like your other investments, pools need some attention, especially as they start to age and have signs of normal wear and tear. So if your pool's finish is starting to fail and is chipped or damaged — or you're ready for something new — it could be time for it to be resurfaced. 
Depending on the original finish type, amount of use, and your  level of maintenance, your pool could need resurfacing after about five to 10 years. Whether you're beyond due or just starting to think about resurfacing, here are some breakdowns of costs, materials and timelines to consider before resurfacing your pool. 
The cost of resurfacing your pool in Palm Springs
Palm Springs Pool Resurfacing – To give you an accurate estimate for refinishing your particular pool, we need a consultation with you in order to know just exactly what is required for the work you need, we can let you in on the many variables that will help determine what kind of costs you may expect. 
The biggest factor is the actual size of your pool when it comes to figuring the costs and the shape of your pool is a big factor as well because a square pool with flat walls is much easier to work with than one with lots of curves. What materials you choose to use to refinish your pool is a big variable as well as what kind of additional options you would like to have in the final product. Plain and colored Portland cement is available, which is the most economical finish we offer, or for a bit more you can opt for aggregate or other pleasing patterns. 
Please feel free to call us any time for a free, on-site consultation, regardless of what kind of final finish you're looking for and we'll be more than happy to set you up with a free quote with no obligation!
What finishes are available for my pool?
The finish you choose will depend on many factors, for aesthetic reasons, including the color and style of your house and surrounding structures, your personal color and pattern preferences, as well as many other variables. 
There are three styles that are the most popular: 
Palm Springs Pool Resurfacing – Diamond Brite color options include Aqua Quartz, Cool Blue, and Super Blue. This elegant finish has been known to last 12 years or more before it can become faded or spotty. Acid washing the Diamond Brite finish every five years will keep it looking great. The cost of Diamond Brite finish can vary from about $5,000 to $10,000 as the different variations are priced at different rates. Lighter colors are much more durable and longer-lasting so it's best to stick with those.
Glass tiles are the costliest of the three options, but the incredible effect they have really makes your pool look high class. These can be placed as elements of highlight around the steps or at the waterline or we can resurface your entire pool with them. The cost of resurfacing an entire pool with glass tiles could equal the cost of the entire pool and as a rule of thumb, you can expect the cost to be $30 to $50 per square foot for glass tile resurfacing. Glass tiles have the longest lifetime of all the resurfacing options. Just like with any tile, they can become dislodged or chip, and they do need occasional re-grouting from time to time. 
The pebble aggregate option has the most natural appearance of the three available choices. These create a darker appearance than the other finishes. Pebblesheen and PebbleTec, along with the colors Seafoam Green, Soft White, Slate Blue, Black Marble, and Tropical Breeze are the most popular options among our residential clients. 
The pebble aggregate is the most stain-resistant and non-slip of our finishes. The Shimmering Sea option sparkles beautifully in the sun and creates a stunning array of refractions and the cost is comparable to the Diamond Brite. 
The color of the finish you finally settle on has a profound effect on the water appearance. Some lighter-colored Diamond Brite aggregates cause the water to appear as aqua blue, while other colors will cause a different appearance. Underwater lighting can really create some stunning effects and greatly highlight the appearance of the pool finish. 
What's the difference between PebbleTec and PebbleSheen?
Palm Springs Pool Resurfacing – Both PebbleTec and PebbleSheen are made by the same company but they're very different from one another. 
According to the maker, their best-selling finish is PebbleSheen. It's blended with pebbles a little smaller, giving a smoother feel than PebbleTec, which has a more natural-looking appearance and a coarser feel, making it very non-slip 
To enhance either finish, you can add a wonderful brilliance to the pebbles by augmenting them with the Shimmering Sea. Both of these pebble aggregates are extremely long-lasting and a good investment for your pool.
More details concerning pool refinishing
Palm Springs Pool Resurfacing – Pool resurfacing is a multi-staged process that can take a few days or more to complete. The first step before anything else can be started is to totally drain the water from the pool. 
As part of prepping, our crew of professionals will completely clean your pool from top to bottom. The walls and floor of the pool, the steps and the coping will all need to be squeaky clean before we can begin! 
Any cracks and other damage will require special attention by prepping those areas for repair, which is needed before refinishing can commence. The underlying integrity of the pool must be confirmed to ensure the long life of the final finish, otherwise, we're just cutting corners. 
After the final prepping, our team of professionals will begin to mix and pour the cement into the required areas to repair the damaged areas. Only then can they start applying the finish and design that you've opted for. 
Maintaining your pool to continue living your dream
Palm Springs Pool Resurfacing stands head and shoulders above any of our competition, and we're eager to prove it to you! Whether you need tile repairs, pool resurfacing, pool deck sealing and resurfacing, or repair and refinishing of your fiberglass pool, there's no reason to look any further. 
There's no reason to let your pool deteriorate any further once you've noticed chips, cracks, or other damage. It'll only get worse once the chemically treated water makes its way into the cement structure of the pool, causing a much bigger and more costly problem. We're the experts in the Palm Springs area, and we're fully skilled and equipped to do the job! 
If you're located within Palm Springs or any of the surrounding areas, give us a call today, and we'll arrange a free on-site consultation and make an assessment of the materials and time it will take to complete your project. Then we'll prepare a no-obligation estimate on the spot!