Pool Plastering & Replastering in Palm Springs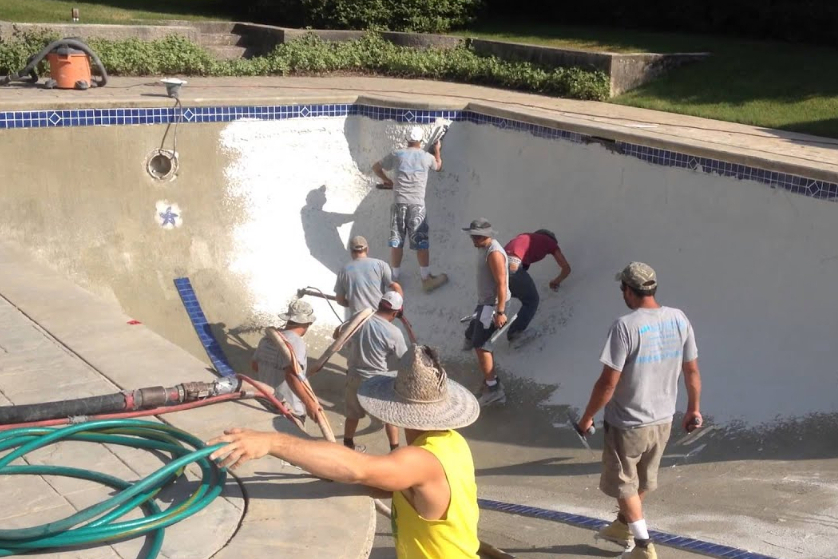 Palm Springs Pool Replastering – Your pool is a beautiful place where family and friends enjoy spending time together. The amount of time and energy you've spent over the years to live your dream should not go to waste. After nearly a decade, your pool's walls and floor might have become a bit rough, some tiles may have chipped or fallen off, and you've might have begun to notice stains on the cement that won't come off, no matter what you do. Exposure to the elements have taken their toll on your pool, and it's time to do something about it! Learn more about pool replastering below. 
Pool replastering Palm Springs and its importance
Pool owners generally choose to replaster their pools because it can last as long as 20 years. While many simply choose to repaint their pools, this isn't a permanent solution. It's possible pool paint may last as long as seven years, but in most cases, pool repainting must be done every year. While replastering is a bit more expensive, it's much cheaper in the long run. 
Some pool owners simply choose to patch areas that are cracked or have other damage, but this is a temporary fix that won't last long. The deterioration of the plaster will cause the parts that you patch to be obvious. A high-quality plaster finish that is correctly applied to a pool can develop problems over the years. After a few months, your pool may develop stains, or they may appear a few years later. Whenever these problems occur, it can lead to larger, more costly problems if ignored.
The warning signs of severe pool plastering deterioration
There are many early warning signs that you need to take notice of that may indicate a serious issue with your pool. Something that just doesn't look right can turn out to be a big problem. Whenever this happens, you need to call Palm Springs Pool Resurfacing for a free on-site consultation: 
How Old Is Your 

Pool?

–

 The age of your pool is a good indicator of whether you need 

replastering

. If 

it's

 over ten years old and you notice warning signs such as stains, slight cracks, and roughness, it's time for Palm Springs Pool Resurfacing to fix it for you.

 

Spalling

– Have you noticed the plaster is peeling along the steps or floor of your pool? This is technically known as spalling caused by constant low PH pool water or low calcium levels.

 

Roughness

– When your pool was brand new, remember how silky smooth the plaster felt? Go out and touch it now. If it's feeling more like sandpaper, then you might have a significant problem. This is caused by chemical etching from your pool treatments. It's unavoidable, and 

that's

 why you need to have your pool 

replastered

 about once every ten years.

 

Stains

– A stain will stick to the plaster surface, much like dirt sticks to a windshield. You can clean a stain with an acid wash, but chances are that 

won't

 do the trick. Mineral stains, rust stains, or any other discoloration is a bad sign and bad news. If the pool is severely stained, you may need to 

replaster

 your pool surface.

 

Exposed Rebar or 

Gunite

– Bare patches can develop over the years when rebar, 

gunite

, or other components are exposed to the treated water's harsh conditions. Rusting rebar will eventually rust your whole pool and even if 

it's

 only a small rust stain from the rebar, there could be a much more severe problem underneath. The substrate layers of your pool are not intended to be exposed to the treated pool water. If any of these layers are exposed in your pool, you need to call us!

 

General Deteriorated Appearance

– This is caused by the water penetrating through the cement surface and causing delamination between the pools' concrete structure and the pool's current surface. This commonly occurs over a long time or if the barrier surface has been poorly applied. These areas 

have to

 be removed

,

 and 

the concrete prepped

 

and smoothed out before we commence the resurfacing procedure.

 
If you are experiencing any of these warning signs, it's imperative that you contact us immediately. We need to determine the extent of damage your pool has suffered so far. While these are only the most significant signs, they are the worst-case scenario of all the issues a pool can experience. But rest assured, we can solve any problem you're experiencing. 
If you're located within Palm Springs or any surrounding areas, give us a call today. We'll arrange a free on-site consultation and make an assessment of the materials and time it will take to complete your project. Then we'll prepare a no-obligation estimate on the spot. If you're searching Google for experts, then here we are! 
You have many options to choose from for the replastering of your pool!
Pool Replastering Palm Springs – The plaster coating of your pool is designed to protect the pool shell from the elements, UV rays, and the water's own chemistry. We have much more to offer than just plaster with many other coatings available which are more durable and decorative than plaster could ever be. 
One of the most common requests we get from our clients in the Palm Springs area is for pool resurfacing. We have a variety of options in this area and although you can always choose standard plaster, why limit your dreams? Here are some options we offer: 
Standard Plaster

– Plaster has been the standard pool surface option since the 1960s. It's 

typically 

painted a light blue color to make the water in the pool look appealing and clean. The surface is hard, but it's also relatively porous. Plaster will stain faster than other surfaces and also requires more significant maintenance if you want 

its

 surface to last. With proper care, plaster can last between 12 and 14 years.

 

Pebble Finishes

– Pebble pool surfaces are low maintenance so when you're seeking to resurface your pool, it makes for a smart choice. If you want a pool that 

doesn't

 easily stain, you should definitely consider a pebble pool surface. Pebble pool surfaces are stain-resistant and very long-lasting. This finish has a non-slip surface that is easier to clean than plaster and requires cleaning less often than plaster surfaces.

 

Pebble Fina

– This is a blend of silica stone and cement. It incorporates the ancient Greek and Roman use of pozzolans (cement additives) into the cement mix, yielding a strong, durable finish that resists etching.

 

Hydrazzo

– This is considered by most the best surface available. It is a smooth polished marble that is as durable as the other aggregate surfaces; it is soft, smooth, and comes in many vibrant colors. 

Hy

drazzo

 is considered to have the smoothest of all surfaces and is strong, durable, and long-lasting.

 

Quartz-and-Plaster Finishes

– Finishes such as Diamond Brite are known as quartz and plaster aggregates. These allow homeowners to achieve dramatic effects and natural lagoon appearances. The aggregates are a mixture of quartz and plaster and result in a slightly textured finish. The appearance of aggregates is achieved by mixing the colored quartz stone with enhanced plaster, applying this mixture to the pool's surface, and then removing the outer layer to uncover the pieces of stone. Aggregates last longer than plaster, and some aggregate products 

actually reduce

 or prevent staining.

 

Custom Designs and Colors

– We often combine two or more finishes together

. This creates

 a synergistic effect that is much more pleasing to the eye than just one of the materials used on its own. We can combine a whole array of materials of different colors, creating a unique 

effect

 that you'll enjoy for many years.

 
Palm Springs Pool Resurfacing is the leader in pool resurfacing technology, and we're eager to prove it to you. We offer quality tile repairs, pool resurfacing, pool deck sealing and resurfacing, or repair and refinishing of your fiberglass pool. So, there's no need to look any further. 
If you're located within Palm Springs or any surrounding areas, give us a call today. We'll arrange a free on-site consultation and make an assessment of the materials and time it will take to complete your project. Then we will prepare a no-obligation estimate on the spot!